LOUNGE OUTDOORS WITH
GEORGE JOUVE, MATHIEU MATÉGOT,
JEAN PROUVÉ AND…RICK
VINTAGE AND MODERN STYLES BLEND SEAMLESSLY TOGETHER IN OUR CHIC OUTDOOR ESCAPE. WHILE WE MIGHT BE FEELING A BIT CAGEY ABOUT A BIRD SKULL CAGE DESIGNED BY LAURENT ESQUERRE, IT REMINDS US TO LEAD WITH OUR CHILDLIKE SENSES AND EXPLORE THE WORLD AROUND US. A CURVILINEAR ROCKING LOUNGE CHAIR FROM WALTER LAMB BEGS TO CRADLE YOU BACK AND FORTH, WHILE EXPERTLY SHAPED METAL MATÉGOT TABLE AND CHAIRS RECALL A EUROPEAN VACATION. ARCHITECTURAL PLANTERS AND A STYLISH LOOP CHAIR FROM WILLY GUHL ARE SUPER SUSTAINABLE AND MADE TO LAST. DESIGNED AROUND THE SAME TIME, THE REFLECTIVE METAL NECKPLATES STRAIGHT FROM THE SPACE AGE WORLD OF 1960'S PIERRE CARDIN OFFER OUR SUNBATHER SOME HELP IN EVENING OUT THOSE TAN LINES. A BRIGHT CERAMIC "BEAR PAW" ASHTRAY FROM GEORGES JOUVE SUPPORTED BY A METAL STAND FROM MATHIEU MATÉGOT PROUDLY STANDS OUT IN THE CORNER. FINISHING OFF WITH A HAPPY ENDING, AN ULTRA-MODERN PAIR OF CHAIN-ANKLET BLACK SATIN PUMPS FROM SAINT LAURENT FEEL ORGASMIC IN THE SUBDUED SUN.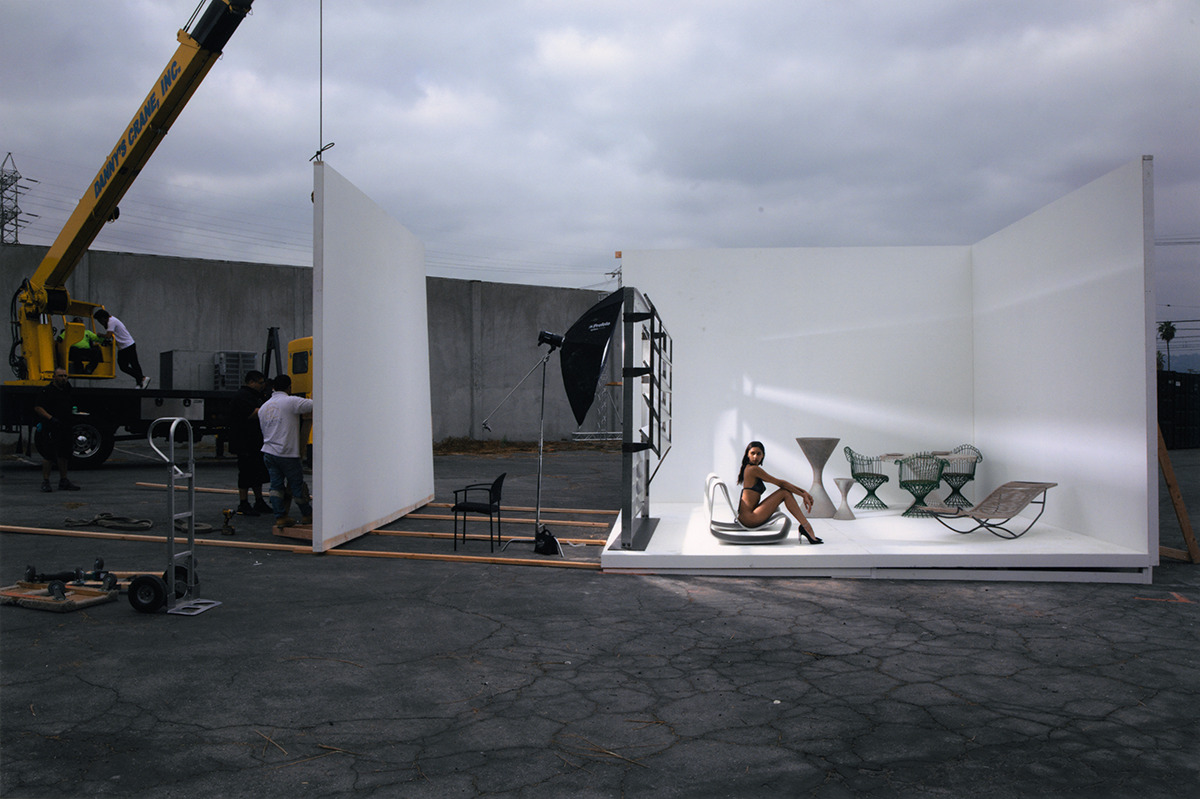 SINUOUS SHAPES AND ARCHITECTURAL LINES EMERGE FROM AN EFFORT TO SIMPLIFY THE COMPLEXITIES OF A PROFOUNDLY DARK WORLD, PUNCTUATING MODERNIST DESIGN. CURVACEOUS FORMS ACCENTED WITH POPS OF MOOD-LIFTING COLOR PROVIDE A CALMING EFFECT. BEHOLD, A SELECTION THAT MAKES A WHOLE LOT OF SENSE FOR 2020.
---