CLOT x SACAI x NIKE   $170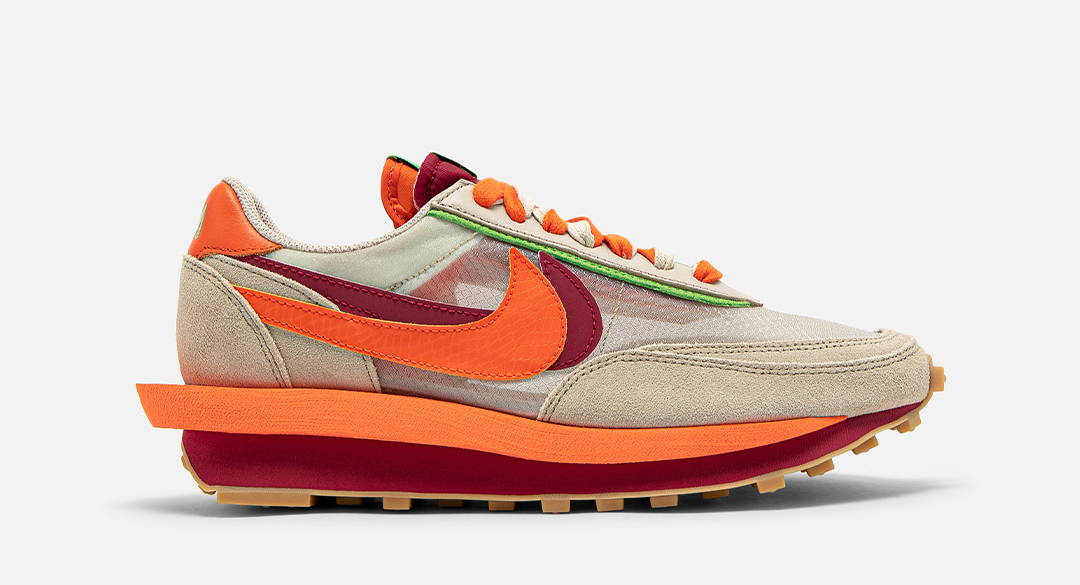 ---
---
DROP ENTRY FOR THE CLOT X SACAI X NIKE LDWAFFLE SNEAKER STARTS ON 9/5 AND ENDS 9/8. WINNERS WILL BE CONTACTED 9/10.

HOW TO PARTICIPATE:
TO PARTICIPATE IN OUR DROP ENTRY YOU MUST ENTER YOUR CURRENT INFORMATION IN ALL REQUIRED FIELDS: FIRST NAME, LAST NAME, VALID EMAIL ADDRESS, PHONE NUMBER, CITY, STATE, ZIP CODE AND SHOE SIZE.

THERE IS A LIMIT OF ONE (1) ENTRY PER PERSON PER VALID INFORMATION.

SELECTION OF WINNERS:WINNERS WILL BE CONTACTED BY EMAIL BY END OF DAY ON 9/10 WITH INFORMATION ON HOW TO CONTINUE THEIR PURCHASE. ALL SHOES MUST BE PURCHASED BY 9/12 END OF DAY. IT IS THE WINNER'S RESPONSIBILITY TO CHECK THEIR EMAIL AND COMPLETE THEIR PURCHASE.
IF YOU DO NOT COMPLETE YOUR PURCHASE IN A TIMELY MANNER (LESS THAN 24 HOURS) WE WILL WITHDRAW YOUR ENTRY. PLEASE DO NOT CALL THE STORE FOR ANY INQUIRIES REGARDING THIS ENTRY.

DUE TO COVID, WE ARE LIMITING THE NUMBER OF CUSTOMERS THAT ENTER AND EXIT OUR LOCATIONS. WINNER'S THAT CHOOSE TO DO "IN STORE PICK UP". THIS MUST BE PICKED UP ACROSS THE STREET FROM MAXFIELD LA AT OUR POP UP LOCATION.
WINNER IS REQUIRED TO HAVE A VALID ID AND CONFIRMATION EMAIL MATCHING THE NAME ON THE PAID RECEIPT USED IN THE WINNING PURCHASE FOR ANY MERCHANDISE TO BE RELEASED AT THE TIME OF PICK UP. WE DO NOT ALLOW ANY CHANGES OR MODIFICATIONS ONCE THE RAFFLE ENTRY IS CONFIRMED.  
IF ANY ISSUES NEED TO BE ADDRESSED PLEASE REACH OUT TO RAFFLE@MAXFIELDLA.COM.

ALL CLIENTS THAT CHOOSE SHIPPING WILL BE CHARGED $20 SHIPPING FEE. YOU WILL RECEIVE YOUR TRACKING NUMBER THROUGH YOUR EMAIL. SHIPPING WILL BE GROUND WITH A REQUIRED SIGNATURE.

RETURNS:
WE ARE NOT ACCEPTING ANY RETURNS. ALL SHOE SALES ARE FINAL SALE.

PAYMENT OPTIONS:
ALL CURRENT WEBSITE WWW.MAXFIELDPOPUP.COM OPTIONS.